When everyone has the chance to succeed, we all prosper
That's why Google.org supports organizations that use technology and innovation to power an economy in which more people have an opportunity to thrive.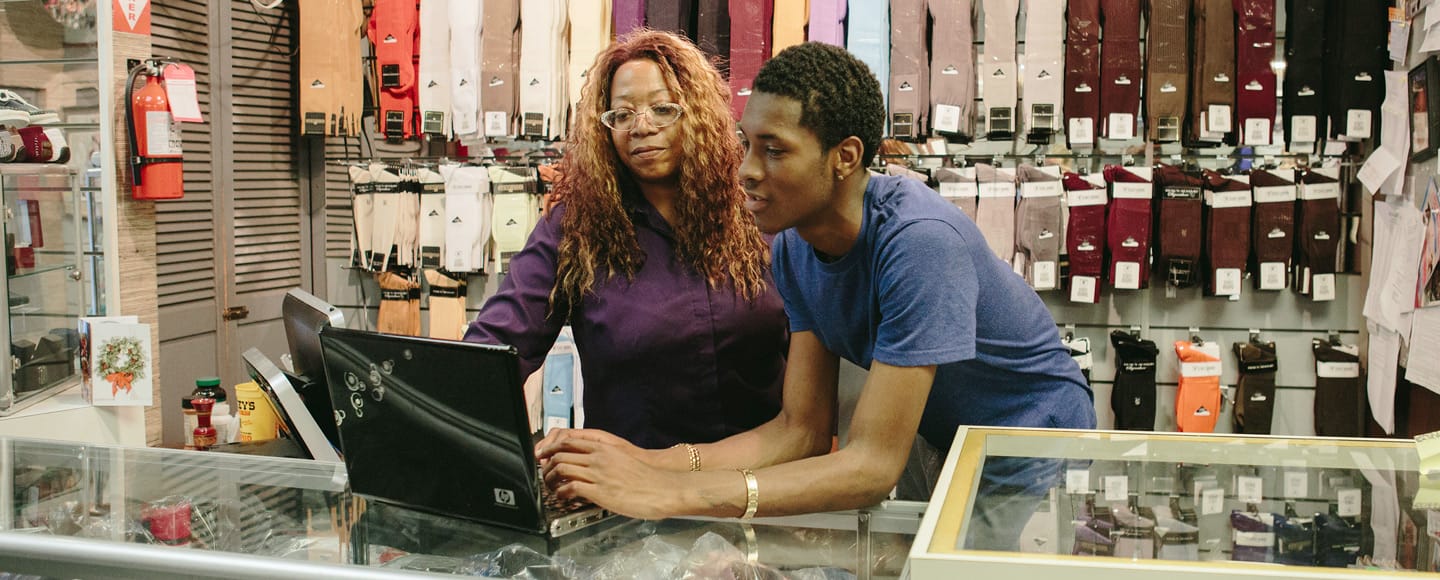 Opportunity to Succeed
The challenge
The global economy has seen positive growth every year since 2010, but for many, good job opportunities remain out of reach. This year, the number of people searching for work worldwide is projected to exceed 200 million for the first time ever, and not everyone is equipped to meaningfully tackle many of the new jobs that do exist. With a changing economy demanding an increasingly skilled and technical workforce, it's critical to ensure that every worker has the tools and resources they need in order to thrive.
Our focus
We fund nonprofits that work to help disadvantaged communities achieve economic independence by making the job market more accessible and testing new employment models that expand economic mobility in a fast-changing labor market.
Our work
Helping prepare for the future of work
The nature of work is changing - whether it's through the rise of the gig economy, technological advances, or demographics. Google.org is committing $50 million to better understand the nature of work and to support nonprofit-led solutions to help people thrive in a changing economy.
More economic opportunity grantees
America Makes
America Makes
Job-ready skills training in advanced manufacturing techniques for former military veterans
Funding began in

2016

Total funding

$250,000

Focus

Economic Opportunity
America Makes
Job-ready skills training in advanced manufacturing techniques for former military veterans
Funding began in

2016

Total funding

$250,000

Focus

Economic Opportunity
BSS (Making a World Together) / 사회연대은행(사)함께만드는세상
BSS (Making a World Together) / 사회연대은행(사)함께만드는세상
Alternative credit rating system based on social signals
Funding began in

2016

Total funding

$228,869

Focus

Economic Opportunity
BSS (Making a World Together) / 사회연대은행(사)함께만드는세상
Alternative credit rating system based on social signals
Funding began in

2016

Total funding

$228,869

Focus

Economic Opportunity
Czechitas
Czechitas
Digital skills and data science trainings for women in the Czech Republic
Funding began in

2016

Total funding

$257,700

Focus

Economic Opportunity
Czechitas
Digital skills and data science trainings for women in the Czech Republic
Funding began in

2016

Total funding

$257,700

Focus

Economic Opportunity
Digitale-Helden gemeinnützige GmbH
Digitale-Helden gemeinnützige GmbH
Peer to peer training for digital literacy / online safety
Funding began in

2016

Total funding

$281,400

Focus

Economic Opportunity
Digitale-Helden gemeinnützige GmbH
Peer to peer training for digital literacy / online safety
Funding began in

2016

Total funding

$281,400

Focus

Economic Opportunity
Root Impact / 루트임팩트
Root Impact / 루트임팩트
Program to connect high potential youth with social impact career opportunitites
Funding began in

2016

Total funding

$228,869

Focus

Economic Opportunity
Root Impact / 루트임팩트
Program to connect high potential youth with social impact career opportunitites
Funding began in

2016

Total funding

$228,869

Focus

Economic Opportunity
Themis
Themis
App to inform and educate domestic workers about their rights
Funding began in

2016

Total funding

$201,995

Focus

Economic Opportunity
Themis
App to inform and educate domestic workers about their rights
Funding began in

2016

Total funding

$201,995

Focus

Economic Opportunity
WeTechCare
WeTechCare
To provide digital skills training to 1M vulnerable and socially excluded people in France and help them access jobs and government benefits
Funding began in

2015

Total funding

$1,000,000

Region of Impact

France

Focus

Economic Opportunity
WeTechCare
To provide digital skills training to 1M vulnerable and socially excluded people in France and help them access jobs and government benefits
Funding began in

2015

Total funding

$1,000,000

Region of Impact

France

Focus

Economic Opportunity
First Place for Youth
First Place for Youth
Ensure that foster youth in Santa Clara County have the housing, education, and employment supports necessary to defy the odds and achieve self-sufficiency and stable housing
Funding began in

2015

Total funding

$500,000

Region of Impact

Bay Area

Focus

Economic Opportunity
First Place for Youth
Ensure that foster youth in Santa Clara County have the housing, education, and employment supports necessary to defy the odds and achieve self-sufficiency and stable housing
Funding began in

2015

Total funding

$500,000

Region of Impact

Bay Area

Focus

Economic Opportunity
GiveDirectly: Rwanda
GiveDirectly: Rwanda
GiveDirectly aims to increase the use of cash transfers in the international development sector and to establish cash as a benchmark against which other interventions are measured; this grant helps expand the use of cash transfers and further studying additional policy questions and how to optimize their design and impact
Funding began in

2015

Total funding

$2,000,000

Region of Impact

Rwanda

Focus

Economic Opportunity
GiveDirectly: Rwanda
GiveDirectly aims to increase the use of cash transfers in the international development sector and to establish cash as a benchmark against which other interventions are measured; this grant helps expand the use of cash transfers and further studying additional policy questions and how to optimize their design and impact
Funding began in

2015

Total funding

$2,000,000

Region of Impact

Rwanda

Focus

Economic Opportunity
The Hidden Genius Project
The Hidden Genius Project
Supported a 15 month tech skills and leadership training program for black male high school students to transform their lives and communities
Funding began in

2015

Total funding

$250,000

Region of Impact

Bay Area

Focus

Economic Opportunity
The Hidden Genius Project
Supported a 15 month tech skills and leadership training program for black male high school students to transform their lives and communities
Funding began in

2015

Total funding

$250,000

Region of Impact

Bay Area

Focus

Economic Opportunity
Infoxchange
Infoxchange
To address digital exclusion with a focus on social housing
Funding began in

2015

Total funding

$247,000

Region of Impact

Australia

Focus

Economic Opportunity
Infoxchange
To address digital exclusion with a focus on social housing
Funding began in

2015

Total funding

$247,000

Region of Impact

Australia

Focus

Economic Opportunity
InnVision Shelter Network/Life Moves
InnVision Shelter Network/Life Moves
Improve the long-term success of formerly homeless individuals and families by extending case management and encouraging successful habits through the use of an innovative SMS/text–based mobile technology platform
Funding began in

2015

Total funding

$750,000

Region of Impact

Bay Area

Focus

Economic Opportunity
InnVision Shelter Network/Life Moves
Improve the long-term success of formerly homeless individuals and families by extending case management and encouraging successful habits through the use of an innovative SMS/text–based mobile technology platform
Funding began in

2015

Total funding

$750,000

Region of Impact

Bay Area

Focus

Economic Opportunity
Jewish Vocational Service (JVS)
Jewish Vocational Service (JVS)
Bridge the gulf between high school and independent adulthood by providing SFUSD students connections to career exploration, post-secondary training and career onramps
Funding began in

2015

Total funding

$500,000

Region of Impact

Bay Area

Focus

Economic Opportunity
Jewish Vocational Service (JVS)
Bridge the gulf between high school and independent adulthood by providing SFUSD students connections to career exploration, post-secondary training and career onramps
Funding began in

2015

Total funding

$500,000

Region of Impact

Bay Area

Focus

Economic Opportunity
Kiva Microfunds
Kiva Microfunds
Backing a hyper-local crowdfunding platform that provides 0% interest loans to small business entrepreneurs in Oakland
Funding began in

2015

Total funding

$500,000

Focus

Economic Opportunity
Kiva Microfunds
Backing a hyper-local crowdfunding platform that provides 0% interest loans to small business entrepreneurs in Oakland
Funding began in

2015

Total funding

$500,000

Focus

Economic Opportunity
Oakland Digital Arts & Literacy Center (ODALC)
Oakland Digital Arts & Literacy Center (ODALC)
Build and launch BRIDGEGOOD.com, a two-sided online marketplace that matches lower-income, minority graphic design students with small businesses to achieve economic independence
Funding began in

2015

Total funding

$500,000

Region of Impact

Bay Area

Focus

Economic Opportunity
Oakland Digital Arts & Literacy Center (ODALC)
Build and launch BRIDGEGOOD.com, a two-sided online marketplace that matches lower-income, minority graphic design students with small businesses to achieve economic independence
Funding began in

2015

Total funding

$500,000

Region of Impact

Bay Area

Focus

Economic Opportunity
Sodate-Age Net
Sodate-Age Net
Digital skills training for disadvantaged youth
Funding began in

2015

Total funding

$205,000

Region of Impact

Japan

Focus

Economic Opportunity
Sodate-Age Net
Digital skills training for disadvantaged youth
Funding began in

2015

Total funding

$205,000

Region of Impact

Japan

Focus

Economic Opportunity
Tipping Point/Year Up
Tipping Point/Year Up
Closing the opportunity divide for disconnected young adults by designing a blended digital and in-person learning platform that enables Year Up to scale through community partners to reach 100x the number of current young adults directly served by the program
Funding began in

2015

Total funding

$500,000

Region of Impact

Bay Area

Focus

Economic Opportunity
Tipping Point/Year Up
Closing the opportunity divide for disconnected young adults by designing a blended digital and in-person learning platform that enables Year Up to scale through community partners to reach 100x the number of current young adults directly served by the program
Funding began in

2015

Total funding

$500,000

Region of Impact

Bay Area

Focus

Economic Opportunity
Y Generation Education
Y Generation Education
Online vocational education training and financing model to provide job skills for at-risk youth
Funding began in

2015

Total funding

$543,650

Region of Impact

France

Focus

Economic Opportunity
Y Generation Education
Online vocational education training and financing model to provide job skills for at-risk youth
Funding began in

2015

Total funding

$543,650

Region of Impact

France

Focus

Economic Opportunity
BUILD
BUILD
Empowering high school kids through entrepreneurship
Funding began in

2014

Total funding

$250,000

Focus

Economic Opportunity
BUILD
Empowering high school kids through entrepreneurship
Funding began in

2014

Total funding

$250,000

Focus

Economic Opportunity
Catch22 Charity Limited
Catch22 Charity Limited
App to give young people skills needed for work
Funding began in

2014

Total funding

$850,300

Focus

Economic Opportunity
Catch22 Charity Limited
App to give young people skills needed for work
Funding began in

2014

Total funding

$850,300

Focus

Economic Opportunity
Center for Employment Opportunities
Center for Employment Opportunities
Providing jobs and support for formerly incarcerated people
Funding began in

2014

Total funding

$500,000

Region of Impact

Bay Area

Focus

Economic Opportunity
Center for Employment Opportunities
Providing jobs and support for formerly incarcerated people
Funding began in

2014

Total funding

$500,000

Region of Impact

Bay Area

Focus

Economic Opportunity
Colnodo
Colnodo
Build Juventic, a new training platform for digital job skills for at-risk young people, and bring this program to more audiences, including those formerly involved in Colombia's internal conflict
Funding began in

2014

Total funding

$600,000

Region of Impact

Colombia

Focus

Economic Opportunity
Colnodo
Build Juventic, a new training platform for digital job skills for at-risk young people, and bring this program to more audiences, including those formerly involved in Colombia's internal conflict
Funding began in

2014

Total funding

$600,000

Region of Impact

Colombia

Focus

Economic Opportunity
Comunidad IT (Associación Civil Comunidad IT de fromacion e insercian laboral)
Comunidad IT (Associación Civil Comunidad IT de fromacion e insercian laboral)
Providing job-ready coding skills for young people in Argentina
Funding began in

2014

Total funding

$300,000

Region of Impact

Argentina

Focus

Economic Opportunity
Comunidad IT (Associación Civil Comunidad IT de fromacion e insercian laboral)
Providing job-ready coding skills for young people in Argentina
Funding began in

2014

Total funding

$300,000

Region of Impact

Argentina

Focus

Economic Opportunity
Family Independence Initiative
Family Independence Initiative
Restore economic mobility to America's low-income communities by providing a flexible marketplace of financial resources conditioned upon families self-organizing in community groups to determine their own strategies for improving their lives and rigorously reporting their progress towards goals
Funding began in

2014

Total funding

$400,000

Region of Impact

Bay Area

Focus

Economic Opportunity
Family Independence Initiative
Restore economic mobility to America's low-income communities by providing a flexible marketplace of financial resources conditioned upon families self-organizing in community groups to determine their own strategies for improving their lives and rigorously reporting their progress towards goals
Funding began in

2014

Total funding

$400,000

Region of Impact

Bay Area

Focus

Economic Opportunity
Fondazione Mondo Digitale
Fondazione Mondo Digitale
Opened a maker space and studio to train young people in digital job readiness skills
Funding began in

2014

Total funding

$500,000

Region of Impact

Italy

Focus

Economic Opportunity
Fondazione Mondo Digitale
Opened a maker space and studio to train young people in digital job readiness skills
Funding began in

2014

Total funding

$500,000

Region of Impact

Italy

Focus

Economic Opportunity
Fundacion Crea (Crea Comunidades de Emprendedores Sociales AC)
Fundacion Crea (Crea Comunidades de Emprendedores Sociales AC)
Offering basic digital and web skills for women microentrepreneurs
Funding began in

2014

Total funding

$443,000

Region of Impact

Mexico

Focus

Economic Opportunity
Fundacion Crea (Crea Comunidades de Emprendedores Sociales AC)
Offering basic digital and web skills for women microentrepreneurs
Funding began in

2014

Total funding

$443,000

Region of Impact

Mexico

Focus

Economic Opportunity
GiveDirectly: General Equilibrium
GiveDirectly: General Equilibrium
Provide evidence to inform governments, funders, and NGOs about how unconditional cash transfers impact the local economy, in order to promote widespread adoption among governments
Funding began in

2014

Total funding

$2,000,000

Region of Impact

Africa

Focus

Economic Opportunity
GiveDirectly: General Equilibrium
Provide evidence to inform governments, funders, and NGOs about how unconditional cash transfers impact the local economy, in order to promote widespread adoption among governments
Funding began in

2014

Total funding

$2,000,000

Region of Impact

Africa

Focus

Economic Opportunity
Hack the Hood
Hack the Hood
Jumpstarting tech careers for low-income youth
Funding began in

2014

Total funding

$500,000

Region of Impact

Bay Area

Focus

Economic Opportunity
Hack the Hood
Jumpstarting tech careers for low-income youth
Funding began in

2014

Total funding

$500,000

Region of Impact

Bay Area

Focus

Economic Opportunity
HandUp
HandUp
Help both homeless and low-income individuals/families overcome poverty by leveraging a charitable giving technology platform that connects donors with neighbors who are struggling to meet their basic needs
Funding began in

2014

Total funding

$500,000

Region of Impact

Bay Area

Focus

Economic Opportunity
HandUp
Help both homeless and low-income individuals/families overcome poverty by leveraging a charitable giving technology platform that connects donors with neighbors who are struggling to meet their basic needs
Funding began in

2014

Total funding

$500,000

Region of Impact

Bay Area

Focus

Economic Opportunity
Instituto Socioambiental
Instituto Socioambiental
Creating open source mini-mills used to produce forest products and generate sustainability in the Amazon
Funding began in

2014

Total funding

$222,990

Region of Impact

Brazil

Focus

Economic Opportunity
Instituto Socioambiental
Creating open source mini-mills used to produce forest products and generate sustainability in the Amazon
Funding began in

2014

Total funding

$222,990

Region of Impact

Brazil

Focus

Economic Opportunity
JobTrain
JobTrain
Provide the first rung on the job ladder for people with multiple barriers to employment through launching Rendezvous Café & Catering, a new social enterprise in Redwood City providing livable wage jobs and career paths to people who have been excluded from the workforce
Funding began in

2014

Total funding

$675,000

Region of Impact

Bay Area

Focus

Economic Opportunity
JobTrain
Provide the first rung on the job ladder for people with multiple barriers to employment through launching Rendezvous Café & Catering, a new social enterprise in Redwood City providing livable wage jobs and career paths to people who have been excluded from the workforce
Funding began in

2014

Total funding

$675,000

Region of Impact

Bay Area

Focus

Economic Opportunity
Mission Asset Fund
Mission Asset Fund
Expanding credit opportunities for hardworking families
Funding began in

2014

Total funding

$250,000

Region of Impact

US

Focus

Economic Opportunity
Mission Asset Fund
Expanding credit opportunities for hardworking families
Funding began in

2014

Total funding

$250,000

Region of Impact

US

Focus

Economic Opportunity
Kiva Labs
Kiva Labs
Combines the power of crowdfunding and microfinance to accelerate solutions tailored to people's unique needs
Funding began in

2013

Total funding

$3,000,000

Region of Impact

Global

Focus

Economic Opportunity
Kiva Labs
Combines the power of crowdfunding and microfinance to accelerate solutions tailored to people's unique needs
Funding began in

2013

Total funding

$3,000,000

Region of Impact

Global

Focus

Economic Opportunity
MAKLab
MAKLab
Workshop giving young entrepreneurs access to digital manufacturing skills
Funding began in

2013

Total funding

$151,160

Region of Impact

UK

Focus

Economic Opportunity
MAKLab
Workshop giving young entrepreneurs access to digital manufacturing skills
Funding began in

2013

Total funding

$151,160

Region of Impact

UK

Focus

Economic Opportunity
Samasource
Samasource
Developing tools based on its successful model for hiring new tech workers from poor populations
Funding began in

2013

Total funding

$2,000,000

Focus

Economic Opportunity
Samasource
Developing tools based on its successful model for hiring new tech workers from poor populations
Funding began in

2013

Total funding

$2,000,000

Focus

Economic Opportunity
vInspired
vInspired
Digital platform facilitating the search for short term employment opportunities
Funding began in

2013

Total funding

$151,160

Focus

Economic Opportunity
vInspired
Digital platform facilitating the search for short term employment opportunities
Funding began in

2013

Total funding

$151,160

Focus

Economic Opportunity
GiveDirectly
GiveDirectly
Direct electronic cash transfers to poor families with mpesa
Funding began in

2012

Total funding

$2,400,000

Region of Impact

Africa

Focus

Economic Opportunity
GiveDirectly
Direct electronic cash transfers to poor families with mpesa
Funding began in

2012

Total funding

$2,400,000

Region of Impact

Africa

Focus

Economic Opportunity
Samasource
Samasource
Grew and sustained an engineering team that enabled us to accommodate more sales clients and data services, resulting in an accelerated pace of impact to our beneficiaries
Funding began in

2011

Total funding

$1,250,000

Region of Impact

Bay Area

Focus

Economic Opportunity
Samasource
Grew and sustained an engineering team that enabled us to accommodate more sales clients and data services, resulting in an accelerated pace of impact to our beneficiaries
Funding began in

2011

Total funding

$1,250,000

Region of Impact

Bay Area

Focus

Economic Opportunity